Casino Games
Click on the name of a game to get detailed information.

BLACKJACK
Blackjack, also called "21," is the most popular casino table game. It's easy to learn and fun to socialize. Players try to beat the house dealer, getting as close as possible to "21" without going over! Hit 21 on your first two cards, and you get a bonus. You may have options for extra bets – ask your dealer about "splitting" or "doubling down." Our rules are as liberal as any casino, and we add some options to help make everyone a winner!
CRAPS
Craps, also called "Dice," is the most exciting game in the casino. Everyone bets on various outcomes of the dice, thrown by one of the players. On some rolls, most everyone will win! The rules of the game are easy to follow, but not always easy to explain – so if you want, we'll do a "demonstration lesson" for interested guests as the gaming begins.
The full casino experience features a full-sized table (at least ten feet long) and a crew of three dealers. You can enjoy the same game on a smaller scale with our 8' tables, run by a single dealer.
ROULETTE
Long the most popular game in European casinos, Roulette is easy to learn and provides a nice break from sitting and playing cards. Each player has chips of a different color, and they bet on where the "pea" will land on the heavy horizontal wheel. Guests can make bets that cover 1 number, 2 adjoining numbers, 3, 4, 6, 12, or 18 of the 36 numbers in various combinations. Of course, the more numbers you bet on, the more likely you are to win — but the payoffs are bigger when you bet on fewer numbers. What will your strategy be?
POKER (featuring Texas Hold 'Em)
Poker is unique among the casino games, in that the players are competing with one another, rather than playing against the House. This makes it an ideal choice for some events, and a risky choice for others; we'll help you decide which is best for your event.
The most popular Poker game today is Texas Hold 'Em, thanks to TV exposure that has helped millions learn the basics of the game. Our dealers can also deal most any other casino Poker game (Omaha, Stud, Draw, Razz, and so on).
Tournaments
You may have seen a Hold 'Em Tournament on television — the fun, excitement, and tension of a winner-take-all contest, which requires you to take risks to stay in the game. Why not do your own tournament for your guests!? We provide the structure to give beginners time to learn the game before they run out of chips. Our most popular option includes a Tournament with Blackjack tables, which open as players are eliminated from the Poker and give the guests a second shot at prizes.
CHUCK-A-LUCK

One of the oldest casino games, still played at some houses on the Vegas Strip. Chuck-A-Luck uses 3 large dice in a cage, and offers several betting options. Simpler to learn than most games.
BIG 6 WHEEL

The classic casino "showpiece" game — it's simple to learn and play, and provides visual and aural excitement. The vertical wheel clacks to a winning number — if you bet on the right one, you win! Like Roulette, you will choose a strategy between "lots of little payoffs" and "a few BIG payoffs". Step right up!
HORSEY DICE
A casino-version of the popular Carnival game, our Horsey Dice Race has been fun for guests for over 10 years. Just pick one of the 10 horses, and cheer as the dice are rolled.
This game is especially fun at Fundraisers, where it becomes a quick side-raffle for prizes.
PADDLE-WHEEL RAFFLE
A hybrid game, using a vertical wheel like the Big 6 — but in this case, each of the 24 players has their own number. One winner every spin!
This is also a great quick-raffle game at Fundraisers … and our "clap for yourself" paddles let EVERYONE know when it's time to spin and win!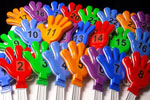 What About SLOT MACHINES?
Glad you asked! We have offered slots in the past; we don't currently.
There are several reasons for this (some benefit our customers and guests, some benefit us!). They include …
Playing slots is an intensely solitary experience. Rather than interacting with other guests at the party, players bond with their machines.
For most people, playing slots is … dull. You may have seen the excitement of hitting a big jackpot; have you seen the hours of play that precede the bonanza?
Slots require lots of space for few guests — because only one person is playing at each machine at a time.
This also means that they are quite pricey, especially considering $ per guest.
Slots are built to be installed and left in place a long time — not moved around from one party to another.
Not only are they heavy … they tend to jam or break down. Often. Not Fun!
And finally, the laws of Wisconsin relative to "gambling devices" are uniquely murky; and we never want to put your guests in a tricky situation!
The ambience of Slots is centered on the classic sounds … and these are available with our Music packages — ask us how to make the room FEEL like a Casino!
OTHER GAMES
Have we got any other game titles?   …   Well maybe.   (!?!)
We do have new games in development, and there is some rotation in the list of available games.
Please ask us if there's another game you want to check on!
"Excellent dealers – they made it fun! They were patient to teach us about the games. "
C. Smith, Valley Express
"What a blast… loved the craps table. Bring it back next year."
P. Swinford, Cumulus Broadcasting